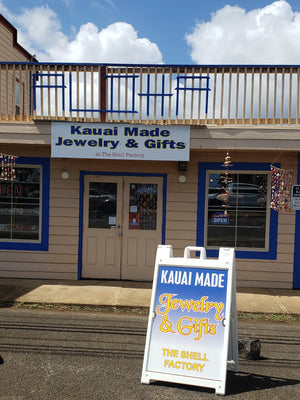 The Shell Factory | Kaua'i, Hawaii
The Shell Factory on Kauai is a Family Owned business that has been in operation Since 1982. We are The Shell Factory because we make gifts and jewelry from shells and coral. The jewelry, shell and gift shop is now operating from its two locations in Kapa'a and Puhi on the Garden Island of Kaua'i.
Timeless Elements of Island Culture
The Coral and Pearls that we use in our our designs are treasured pieces of Island Culture from around the world. Whether it is Coral found in the Islands of Hawai'i or Pearls from Japan and Tahiti - we respect these beautiful pieces of Island Culture.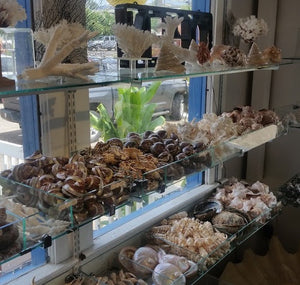 Precious Corals of Hawai'i
From the hundreds of coral species that inhabit the earth's warmer waters, only a few varieties are highly prized for making jewelry because of their beauty, hardness and brilliance. There are precious corals that are found in the Hawaiian waters that are made into beautiful gems. These Corals are Black Coral, Pink Coral & Gold Coral which can Only be found in Hawaiian waters. This is also the order of rarity of corals of Hawai'i. The majority of the coral is too soft for carving and builds on reefs near the surface of the ocean, as it needs light to survive. These reefs protect the island from large waves and provide a complex ecosystem of ocean life.
Learn More
Tahitian, Cultured Pearls & Fresh Water Pearls
Tahitian Pearls
Tahitian Pearls frequently referred to as black pearls, are highly valued because of their rarity. The culturing process for them dictates a smaller volume output and they can never be mass produced because the oyster can only be nucleated with one pearl at a time, while freshwater mussels are capable of multiple pearl implants. irritant, forming a pearl.
Cultured Pearls
These pearls are gonad grown, and usually one pearl is grown at a time. This limits the number of pearls at a harvest period. Nacre which builds up in layers around the irritant, forming a pearl.
The nucleus bead in a beaded cultured pearl is generally a polished sphere made from freshwater shell. Along with a small piece of mantle tissue from another mollusk (donor shell) to serve as a catalyst for the pearl to develop
Fresh Water Pearls
In freshwater pearls only the piece of mantle tissue is used in most cases, and is inserted into the fleshy mantle of the host mussel. Multiple pieces of mantle can be inserted in freshwater pearl oysters producing multiple pearls.
Learn More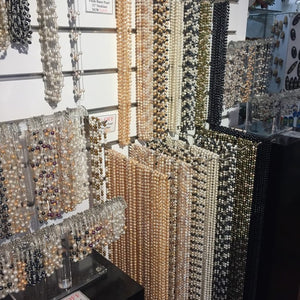 A Piece of The Hawaiian Islands
These special Gifts, Pieces of Jewlery, & Shells are a just little slice of Hawaii for you to have at home with you. Whether you want to remind yourself of a trip you took in the past, or simply to spruce up your house with a bit of Hawaiian Aloha - these items are the perfect keepsake for you. Bring home a little piece of Hawaiian Aloha.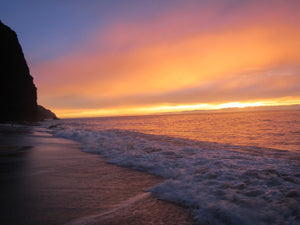 Kaua'i Hawaii
Kaua'i is the geologically oldest of the Hawaiian Islands, known as the Garden Island for its lush and tropical feel. From the soaring cliffs of the Napali Coast and the legendary waves of the North Shore, to the Coconut groves on the East Side, the sunny days of the South and the great Waimea Canyon of the West. This is the place we call home.
Read Our Story
Our Store
Kapaa Location: 4-1477C Kuhio Hwy. Kapaʻa, HI 96746
OPEN:
Monday,Thursday,Friday,Saturday & Sunday at 8:00am to 2:30pm
Sometimes open Tuesday and Wednesday 8am to 2:30pm Depending on Surf.